Why Anthelion School of Art?
If somehow you have reached this page, it means you are looking for a Good School of Fine Arts for yourself or someone near to you. Of course, a few questions are going in your head while you are scrolling through the different sections. Let us summarize a few important ones here.
May not be in exactly same order, but definitely most or all of these following questions are something that is in your mind and so are our answers with them –
      1. What is this school all about?
This is a school of fine arts (painting) where we are trying to impart the authentic art education as covered in the best Art Colleges in India and the world (only the coverage of painting department), especially in the bachelor's degree. We have no connection with any board or university. We are just trying to ensure that the same coverage and same quality of Art Education is imparted to our students of any age and capability, but at their own convenience.
      2. Where is it located?
We are located in South Kolkata between South City Mall and Jadavpur Thana (Police Station) in Prince Anwar Shah Road. This area is called Poddar Nagar. Nearest metro is Ravindrasarovar and bus stop is "EDF More". You can get one auto from Ravindrasarovar metro to EDF More, from where you can walk down to our school. Our nearest Landmark is Poddar Nagar High School. You may ask anyone for Poddar Nagar High School at the EDF More.
 You may look at our Contact page to check the MAP for exact position.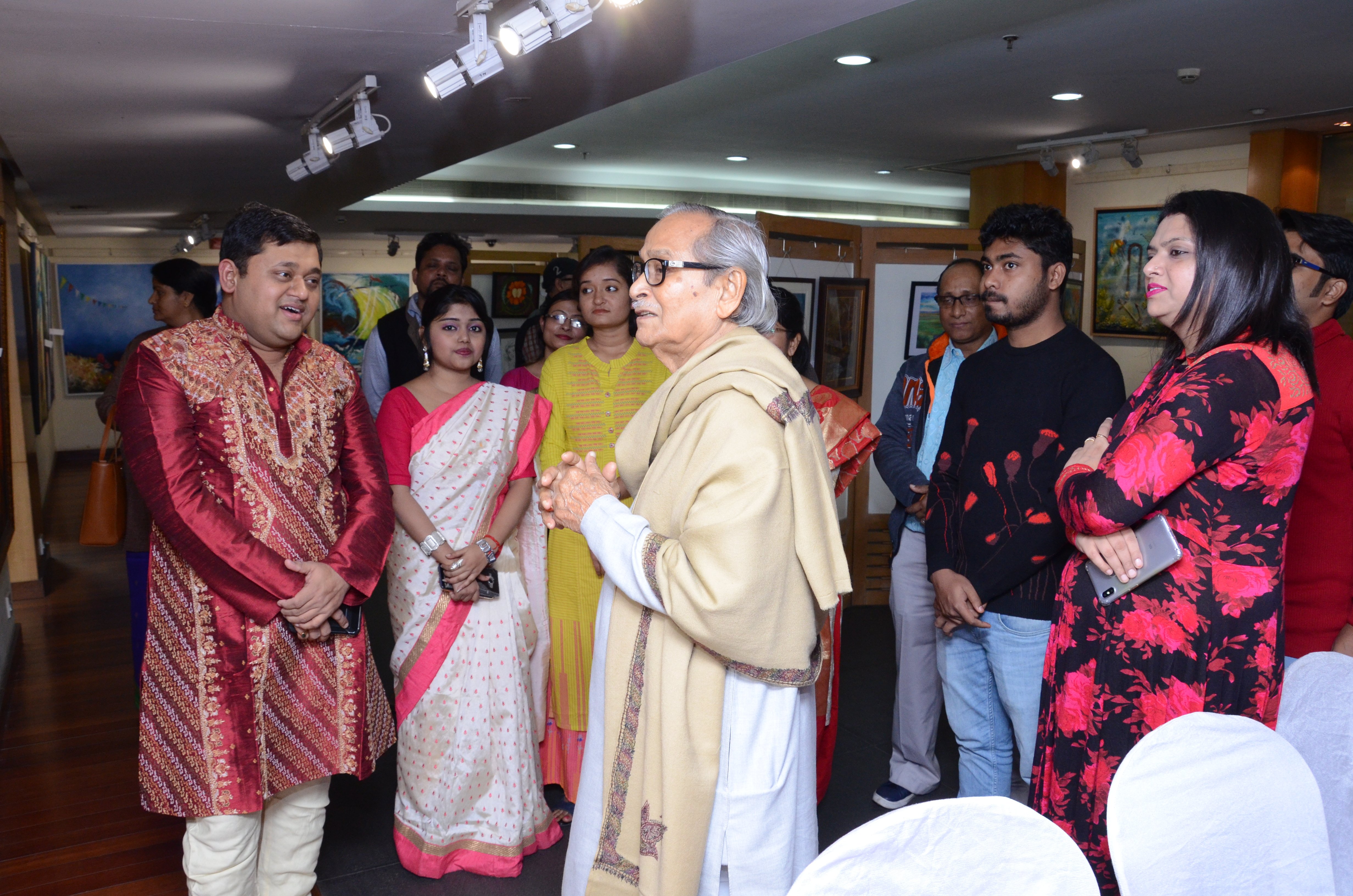 3. What exactly they teach?
We teach painting to people of all ages, if needed from how to hold the pencil or even if you complete a degree course you can come and learn further. We believe in authentic art training, like the ones you get in the best art colleges in the world. We also believe that you might like to learn fine arts at any stage of your life. Therefore, we have made our training style and processes very flexible and customized – and it shall be developed for each of our student as per their available time and circumstances.
We have students who may be a professional, service person, retired, homemaker, student, businessman/woman or a full-time artist or art aspirant. We develop every individual's road-map of learning as per their individual situations.
But the bottom-line is – we teach painting to people in the most authentic and professional manner. We also help them to take their work to their audience – by promoting good artworks digitally along with the artists, through our Exhibitions and Workshops. Our students get lots of invitations from other groups, organizations and galleries to participate in various events.
      4. Can people of all ages come here?
Yes – people of any age, gender, religion, ethnicity can join Anthelion School of Art. Our admissible age range is age 8 to 80 years.
      5. What are the courses?
We have mainly 1 Online Course and 3 types of Classroom courses.
Two Years Online Diploma in Fine Arts – This is a Two Years (100 weeks) program with Two sets of Assignments per week and One-on-One Video Call with Mentor, based on our syllabus.
General Diploma Classes – Minimum One Class per Week (may be more, if you can afford); Duration depends on Student. Suitable for comfortable learning if you are not in hurry or if you are learning just as a Hobby. A general average is total of 150 classes before you go for exam.
Full Time Diploma Classes – Three Classes per Week; Duration 12 months. Suitable for fully professional learning with limited time in hand.
Crash Courses – Customized Packages where you can buy a set of classes and undertake them as per your convenience. Suitable for people who come to Kolkata from outside with one or few weeks in hand.
Pay & Paint Classes – If you just feel like taking an Art Break for a day, then just like watching a two-hour movie, you may try our Pay & Paint Classes.
For complete details and price list on these, please visit our Online Courses and Classroom Courses Page.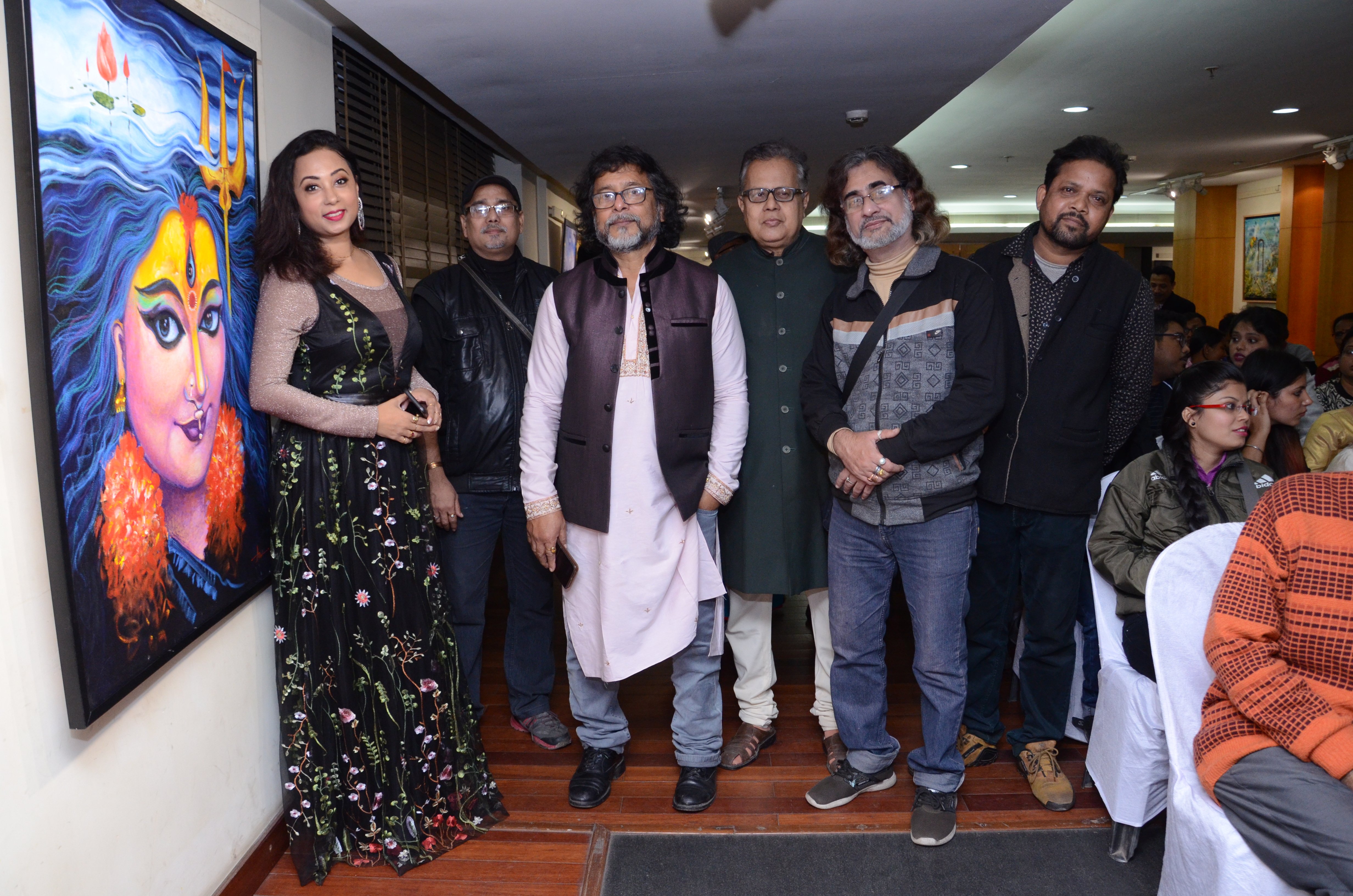 6. What are the class / slot timings?
We have three slots per day – Wednesday to Sunday – 11 am to 1 pm; 2 pm to 4 pm and 5 pm to 7 pm. You can choose the slot(s) as per your convenience depending on how many classes you undertake per week (minimum one class per week).
      7. What are costs?
Our costing is as follows –
 Admission Fees
For Online Program – Rs 1025/-
Classroom – Up to Two Classes per week (General Diploma) – Rs 2,500/-
Classroom – Three or more classes per week (General / Full Time Diploma) – Rs 5,000/-
Tuition Fees –
Online Program – Rs 1025 / Month
Rs 375/Class for General Diploma (paid Monthly – Prepaid)
Rs 5,000/- per month for Full Time Diploma (paid Monthly – Prepaid)
Rs 500/Class for Crash courses to be paid for the entire set of classes
Rs 650/- for Pay & Paint Classes
For complete details and price list on these, please visit our Online Courses and Classroom Courses Page.
      8. Are there any short-term courses?
Yes – We have very customized Crash Courses designed for your needs. In this you don't have to pay Admission Fees. You buy classes in packages / sets and undertake them as early as possible as per your availability.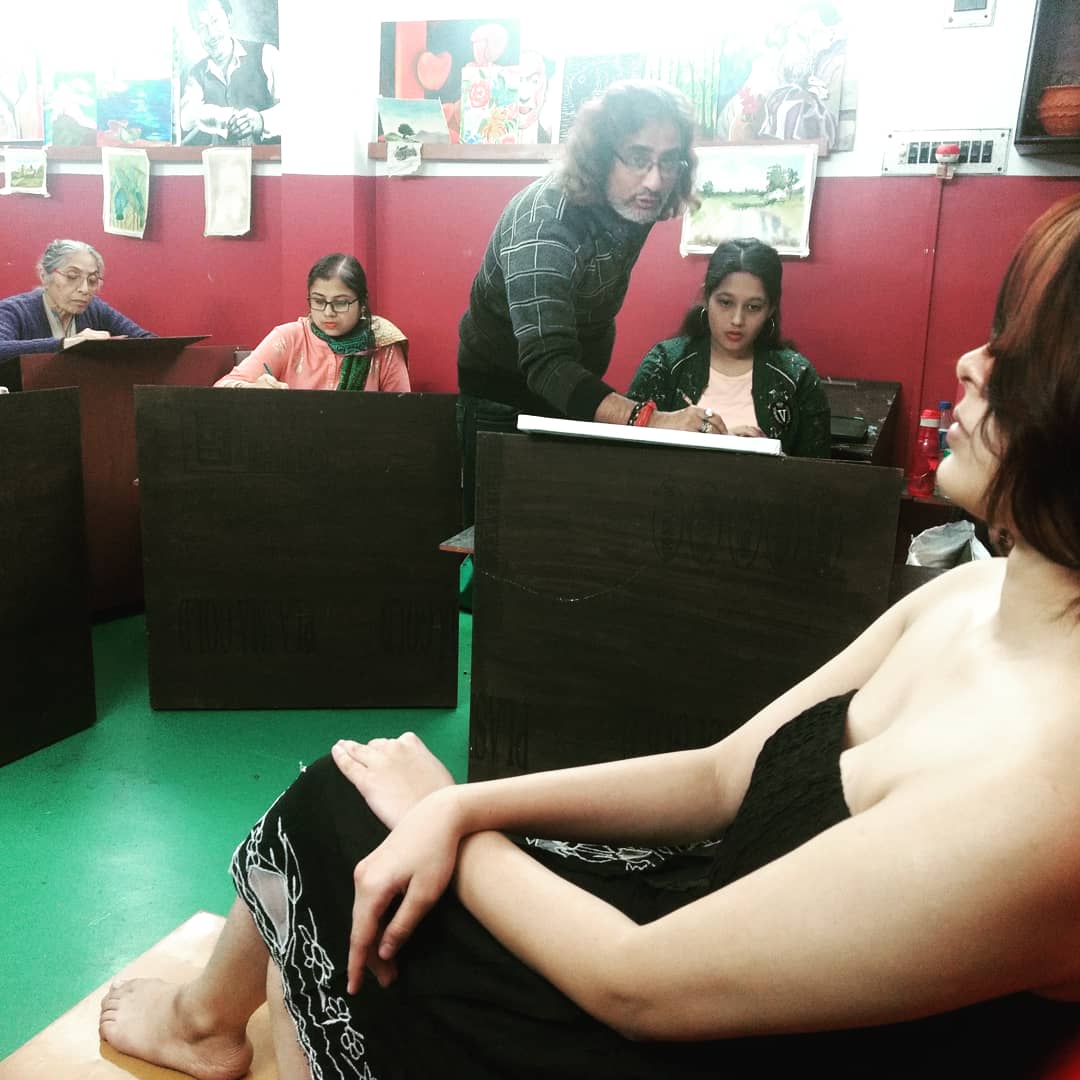 9. How much time does it take to complete this course?
For General Diploma, total duration is in the hands of the students. Since we have students of different age and backgrounds, how much time one can commit for practice or how much is your adoptive power is not known to us. So, we cannot generalize the total time in batches. Hence, everyone's journey here is unique and separate and you may complete the course in your pace. When you and your teacher feel you are ready, you apply for the exam and we take your exam. We normally advice you complete 150 classes before you decide to go for exam.
For Full Time Diploma, we complete the course in One Year time (if you don't take a break). You may also squeeze the time duration further if you do more than 3 classes per week. You cost (Tuition Fees) may vary in that case.
For Online Diploma, the total time is Two Years or 100 weeks.
     10. How is this school better that others? Or what is special about this school?
This is a difficult question to answer, especially when we are not exactly aware of your needs and the exact value proposition of other institutes in Kolkata / India. So, we will say what is special about us and we leave it to you to decide whether that makes us better or worse.
First thing is we have students from age of 8 to 80.
Second is we give personal customized attention to all, within the class size of about 10. Your journey is only yours and it really does not matter what the person next to you is doings.
Third is you join at any stage of your ability to paint. You may start form how to hold your pencil or you may have completed a degree course and still start learning.
Fourth is we just don't do copy painting. You not only see a painting and make your artwork, but also you do study – still life, outdoors & live models and you also focus on learning how to create compositions from your mind.
Fifth is we try to make things flexible with your available time, withing the limits of our business structure running smoothly.
Sixth is we not only just teach in classes, we also organize workshops, exhibition and other interesting events where you learn, enjoy, enrich yourself and also showcase your talent and skill to others, you get the opportunity to meet other senior artists and art-patrons and build your relationships from there. We basically provide you a launching pad for the Professional Art World.
Seventh is our teachers are not only good artist of national (and sometimes international) fame but also good art teachers. It's not necessary that a Good Student be a Good Teacher. We have tried our best get good Artist Teachers.
So far these are our USPs that we could enlist, and we hope this will give you the understanding of our standing.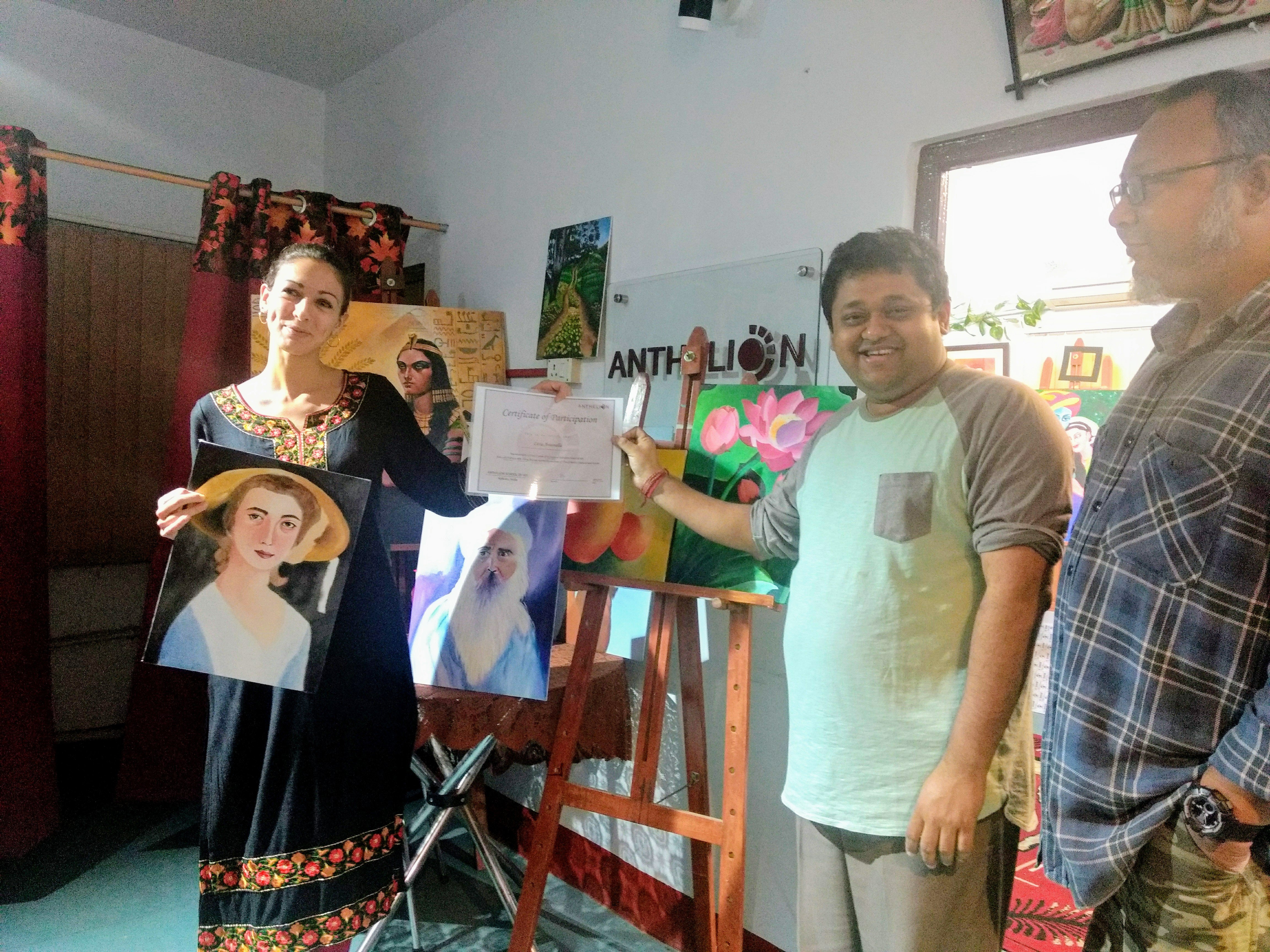 11. Do they provide any certificate?
Yes – once a student and his/her teachers feel they are ready (i.e. the first 8 modules of our course are finished), then he/she may apply for an exam. We shall conduct a customized exam for the student. On qualifying this exam, the student may proceed to module 9 – stylization, in which the student will have to develop 10 artworks in his/her own style. After that comes the 10th module – which is the project. On completion of the project we shall conduct a Viva and finally provide "Diploma in Fine Arts", from Anthelion School of Art.
We don't have any connection with any Board, Society, University or Parishad.
     12. Is there any value of their certificate?
As an institution we started in May 2017. So, we clearly don't claim any tall things about the value of our certificate. Our certificates have been used by students to apply for international studies, get jobs in schools and other institutions, apply for Montessori courses, and by the way it is also used by students to open their own schools to certain extent.
So, the more our students perform, the more will its value grow. But we would rather put it this way – if you want a valuable certificate, we are probably not the best place today. If you want to learn – deep and authentic, you may please come to us.
     13. Who are the mentors and what are their credibility?
Our mentors are professional and senior (and junior) artists from Kolkata (east) region who have bachelor's and/or master's degree from best art colleges in India along with multiple experiences of national or internationals Art Exhibitions and Workshops. They are good artists as well as good teachers. The list of the artists and their achievements is available in the Home Page.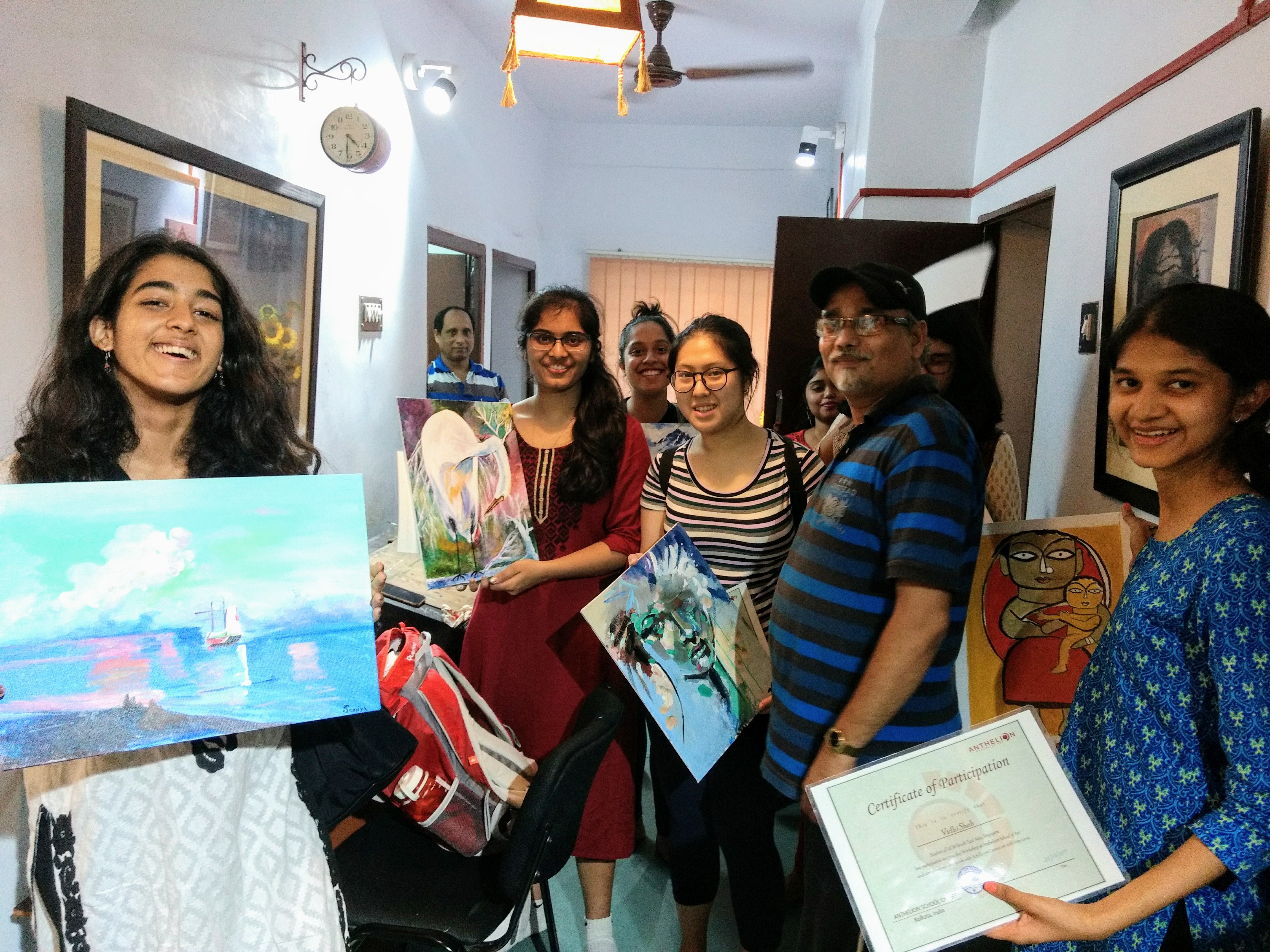 14. Other that just teaching, do they conduct any other events – like workshop, exhibitions etc?
Yes – we do organise interesting and challenging workshops (6-8 per year) and Exhibitions (2-3 per year) in different occasion or formats. Our students are always given a bigger and better challenge every time to inculcate more skills and maturity in their artwork and new networking opportunity with Art Industry seniors through our events.
     15. Do they help sell our Artworks?
We try but so far, we have not been much successful in this endeavour. We expect to be able to develop better connections with buyers, dealers and industry people in near future.
     16. After learning are there any prospect in Fine Art, especially from this school?
Well, Fine Arts is not an educational sector that attracts Campus Placements like engineering or MBA. But it has its own set of opportunities and prospects. So, first it is important to understand the Career Opportunities in Fine Arts. A fine artist normally may engage in any or all the following activities –
Painting as one's heart wishes, Exhibition & Selling – An artist may Paint to just satisfy his/her heart and then exhibit them. It may result into sales.
Commission Art – An artist may be asked to make a specific type of painting on request by a client on payment.
Illustration & Art Direction – Mainly applicable in Print & Publishing Industry, an artist may be requested to develop illustration for stories / articles or the entire art design for the book or magazine or their covers.
Contractual Consulting – For the fields of Films, Fashion / Interior Design, an artist may be consulted. In this case, knowledge of Painting, Sculpture, Installation etc all are required at once. In films one may needed as art director or for story-boarding.
Projects – An artist may be engaged partly (as team member) or fully (solo) in a complete project – like Durga Puja or bigger projects.
So, it is important for an artist in their learning phase to develop one's skill and imagination to the extent that they can utilize one or more of the career opportunities mentioned above.
Now we develop our students to be able to develop a complete mastery of the skill and imagination needed for above career prospects. Secondly, we organize events, exhibitions and workshops where they get complete experience of the above prospects. We have created linkups with other organizations who come with furthermore opportunities for our students to get into the professional art industry.
So, we have the right platform for you, if you want to first learn thoroughly then enter the professional art world. Our students get internships, workshops, exhibitions and projects from other bodies and art organizations. We get all the senior Artists, Dealers, Patrons into our events. So, it is up to the students how much they can utilize these connections and opportunities for their own benefits.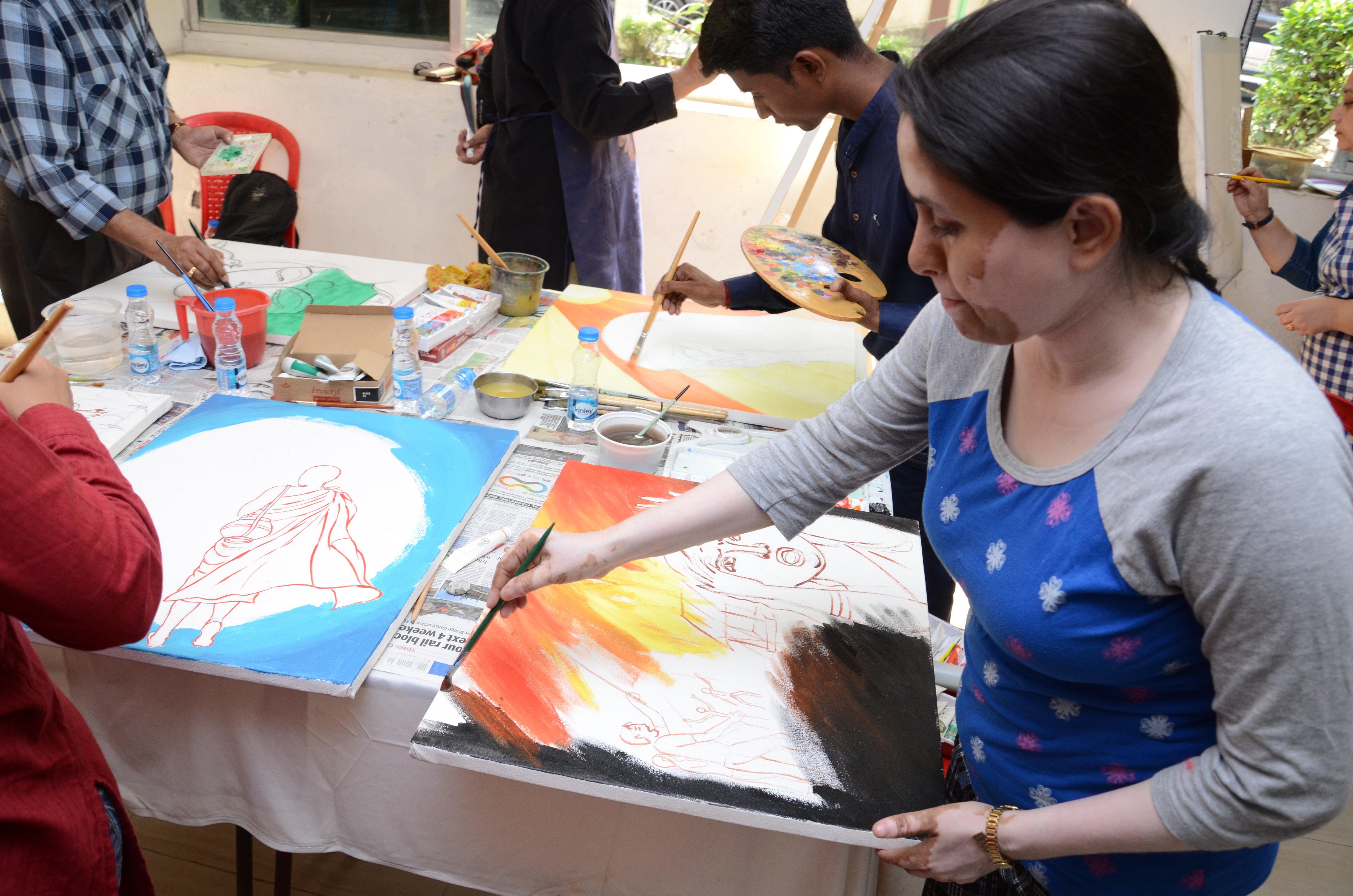 17. Do they sell Art materials here?
Yes, we have all required Art Materials and stocks needed for Painting classes. And you get discounts as well. But it is not mandatory for you to buy from here. It is just for the sake of convenience of our students.
     18. Do they teach Sculpture, Metal, Clay, Wood or Textile based fine art courses? Are their Applied Art Courses here?
As of now we are sticking to Painting and application of Clay in Painting. Rest shall be introduced slowly and eventually.
Now, that we have enlisted all the major FAQs, we hope you have a clear understanding of what we are, what we offer, where we are, what are our costs and what are our benefits. If the information matches your requirement, then we suggest that you come and try our classes. Too much analysis always leads to paralysis. Hence see you soon. You may call us at +91 97335 04525 and discuss further any day except Monday, between 11 am and 7 pm.