Creative Childhood Program
for children of age 4 to 8, from
Anthelion School of Art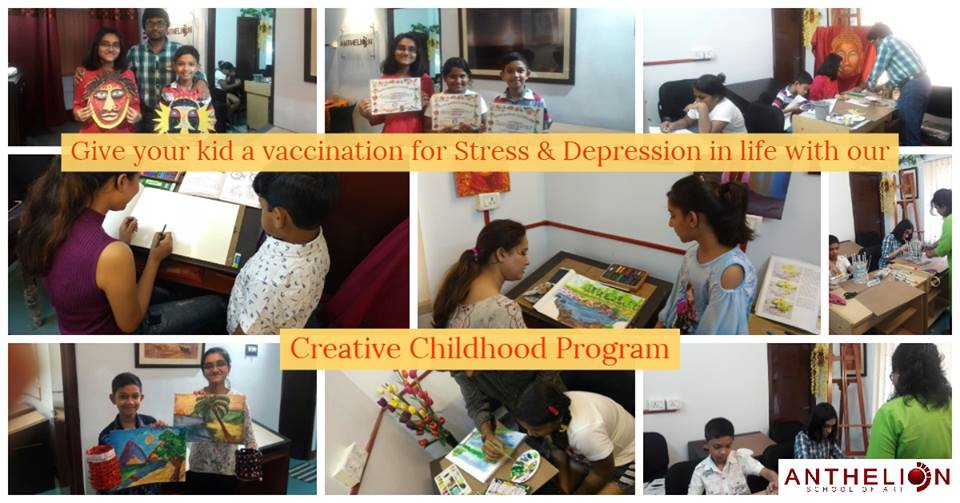 Anthelion School of Art Kid's Classes
Course Duration & Purpose –
Age 4 – 6 years – Purpose – Curiosity, Basic Concept & Understanding, Balanced Right (Creative) brain & Left (Logical) brain development. – 200 weeks program (4 years).
Age 7-8 years – Purpose – Application development, knowledge, skill and physical development in synchronization with creative development of mind, introduction to Fine Arts – 100 weeks program (2 years)
Recognizing, Drawing, Coloring of –
Basic Shapes & Related Everyday Objects –

Circle – Clock, Sun, Chapatti, Plates & dishes etc.
Sphere – Planets, Balls, Fruits & Vegetables etc.
Hemisphere – Fruits etc.
Square – Cushions, Kites, Boxes etc.
Rectangle – Envelopes, Cards, Trunks etc.
Triangle – Stars, Christmas Triangle etc.
Cone – Ice-cream Cones & Birthday Caps etc.
Complex Shapes – Flower Vas, Human Body Parts etc.

Understanding & Application of Mediums & Colors – Pencil, Color Pencil, Oil Pastel, Water Color etc.
Making simple to complex Compositions & Crafts of (Also Nurturing & Practicing) –
Animals & Plants
Home Items
Play & Playground Items
Classroom Items
Seasons
Festivals
Transports
Military Equipment
Maps, Countries, India
India – My Country – Mythology; Tales; History
Kolkata – My City – Famous Building, Monuments, Landmark, Culture, History, Sports
The World – Seven Wonders, Famous Buildings, Famous Events
Landscapes – Mountains, Deserts, Beach, Forests, Cities, Villages
Professions & Occupations
Pets
Life Aspects – Social, Cultural, Spiritual & Religious
Health – Yoga, Pranayam, Meditation, Sports; Self Defense Techniques
Cultural Activities – Elocution; Story-Telling; Story & Poem Writing; Extempore; Debate; Group Discussion; Dramatics & Acting.
Behavioral – (covering mental, social & communication-based skills) – Cleaning; Table Manners; Social Manners; Personal Hygiene; Public Hygiene; Good & Bad Touch; Stranger Handling; Confidence Build-up; Self Esteem; Household Chores; Gratitude; Forgiveness; Humility; Environment; Plantations; Neighborhood skills etc.
Leadership Quality Development
Comics, Cartoons, Caricature & illustrations.
Activities to be covered other than normal drawing & craft making –
Finger Painting
Bubble Painting
Blow Painting
Thread Painting
Clay Modelling
Origami
Gift Wrapping & Covering
Fabric Dying
Collage (Individual & Group Activity)
Calligraphy
Craft Work Include – Photo Frames, Envelopes, Greetings Cards, Baskets, Boxes, Masks, Stuffs with Ice-cream Sticks, Stuffs with Waste & Junk Items, Stuffs with Paper, Dolls, Jewellery and many more items.
Materials that might be needed at different times –
Painting & Drawing – Drawing Copies, Sheets, Canvas Boards, Pencil Set, Eraser, Sharpener, Color Pencil Set, Glass Marking Pencil Set, Charcoal Pencil Set, Drawing Pens, Oil Pastels, Crayons, Calligraphy Pens, Water Colors, Acrylic Colours, Fabric Colours, Brushes, palettes etc
Crafts & Others – Hot Glue Gun & Glue, Scissors, Writing Material (Markers, Pens, Pencils, Crayons, wood color pencils etc), Glitters, Fabric Colors (Favicryls), Paint Brushes, Craft Pipe Cleaner, Pom Pom, Art Papers, Card Board Paper, Pop Stick, Ribbons, Crystal Stones, Baskets, Scraps of Patterned Paper, Clear Tape, Color Cards, Caps of Cold Drink Bottles and other waste materials etc.
Course fees –
Admission Fees – Rs 1,600/-
Tuition Fees – Rs 2400 / quarter [Rs 800/month payable quarterly]
NOTE: No Make-up classes available – You miss it, you loose it.