PAST EVENTS
Oil Painting Workshop for All – 11th and 18th December 2018 at Anthelion school of Arts
As a new and fresh approach to the learning of fine arts in Kolkata, Anthelion school of art organized a unique workshop for oil painting this winter on 11th and 18th of December 2018 at Anthelion school or Art.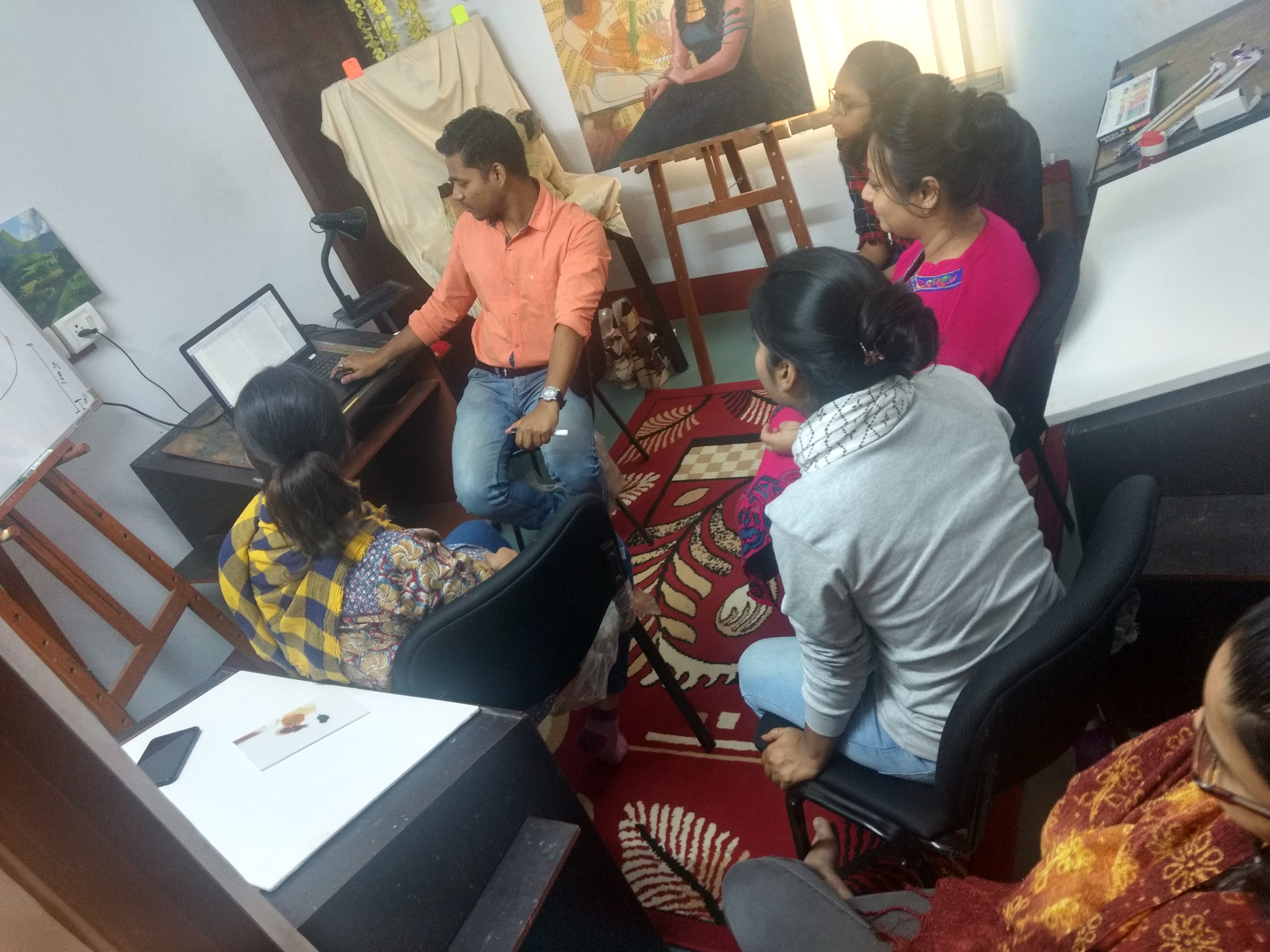 For the beginners who have just started oil painting, this workshop was organized to give them the proper understanding of the intricacies and grammar of this medium of art.
This 12-hour workshop divided in two days was very helpful for those who have just began using this medium but to understand the complexity of it.
Under the guidance of Artist and Mentor Mr. Bipul Chowdhury, three in-house students and two outsiders joined this workshop to get a better understanding in the use of oil paints to create art. From the aspect of helping students to learn, it was indeed a successful even, a success that is sure to be repeated at Anthelion School of Art.
The strokes exhibition: 16-18th November 2018, at gallery gold.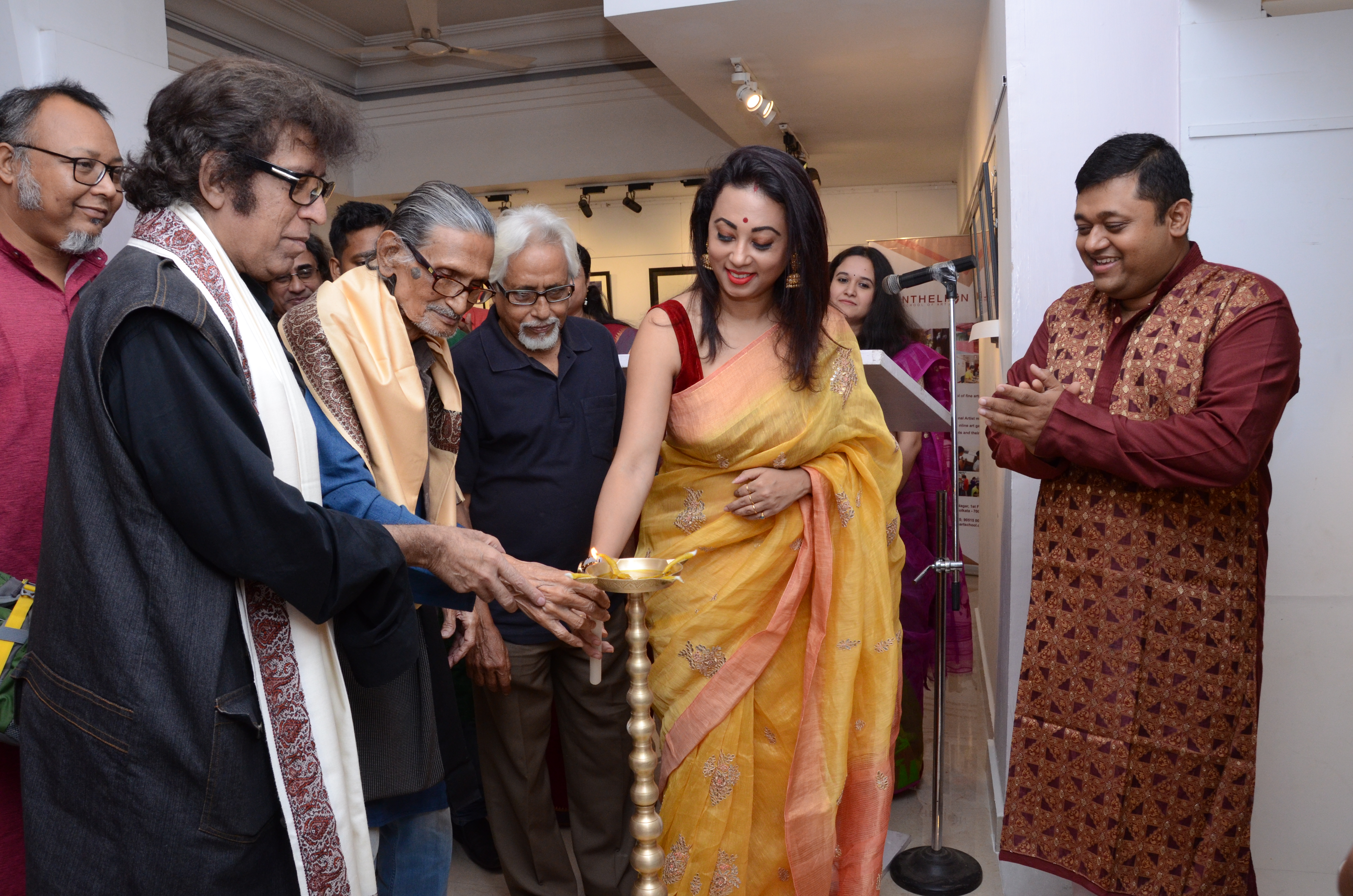 For the first time ever in Kolkata,  Anthelion School of Art held a student's fine art exhibition 'The Strokes'. The students, who for the last year and a half have been learning the ropes of fine arts in our institution, came out and showcased their work through this one of a kind exhibition, held from 16-18th of November 2018, at Gallery Gold.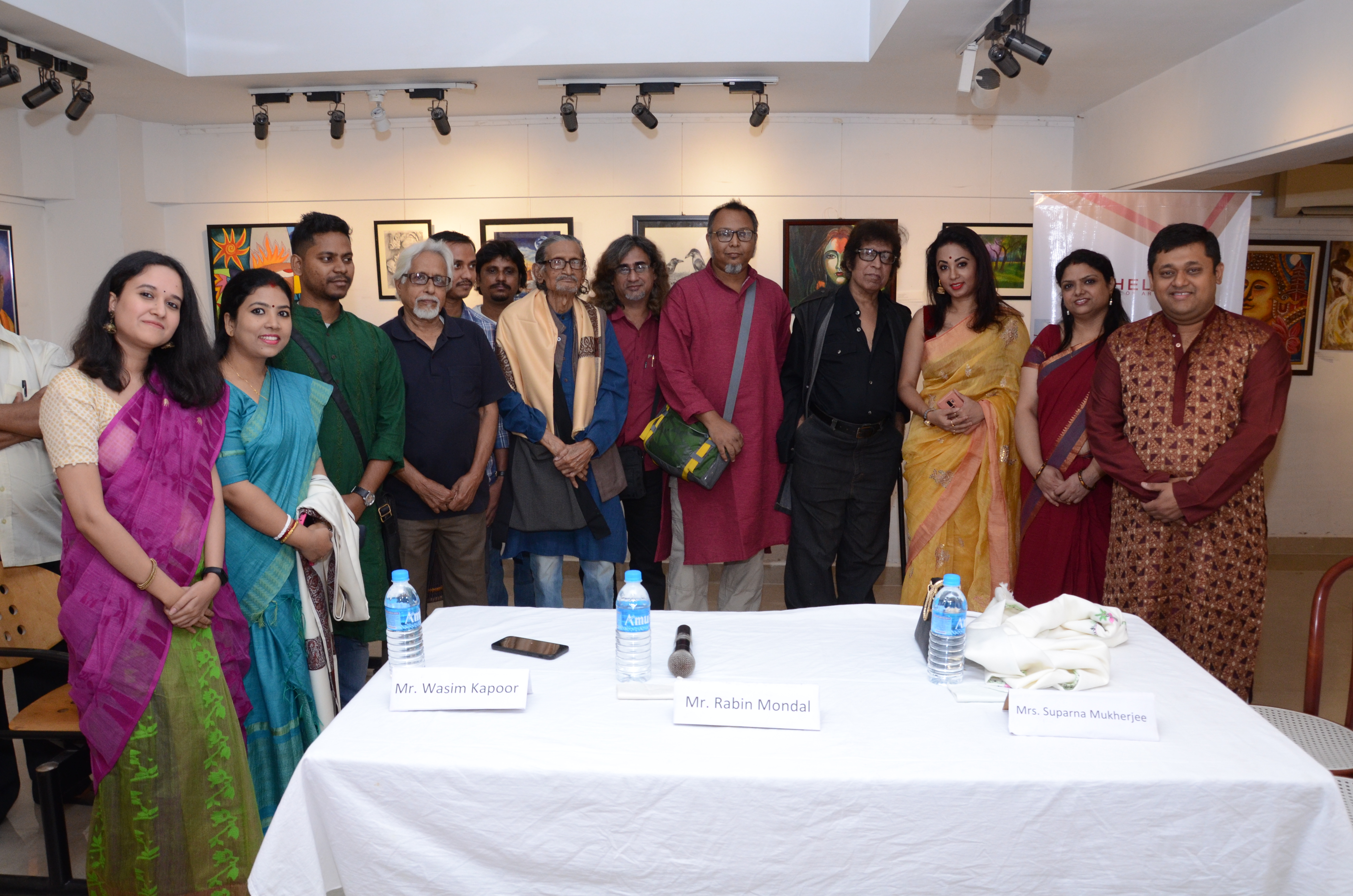 The exhibition was graced by the presence of senior artist Wasim Kapoor, Ramananda Bandyopadhyay, Rabin Mondal and Suparna Mukherjee (Mrs. India Bengal and Mrs. Asia pacific ambassador 2018) and the consul general of Japan Masayuki Taga, and Dr. Parijat De (senior bureaucrat, Govt. Of WB).
Hosting this open for all art exhibitions was another unique and successful attempt to bring fine arts into the life of common people by the Anthelion school of art, which has already made an impact on the fine arts scenario in Kolkata, creating a safe space for anyone and everyone to come and practice art. This was a very special event for those students, who showed off their art, some for the very first time and received appreciation from some of the most renowned veterans in the world of art.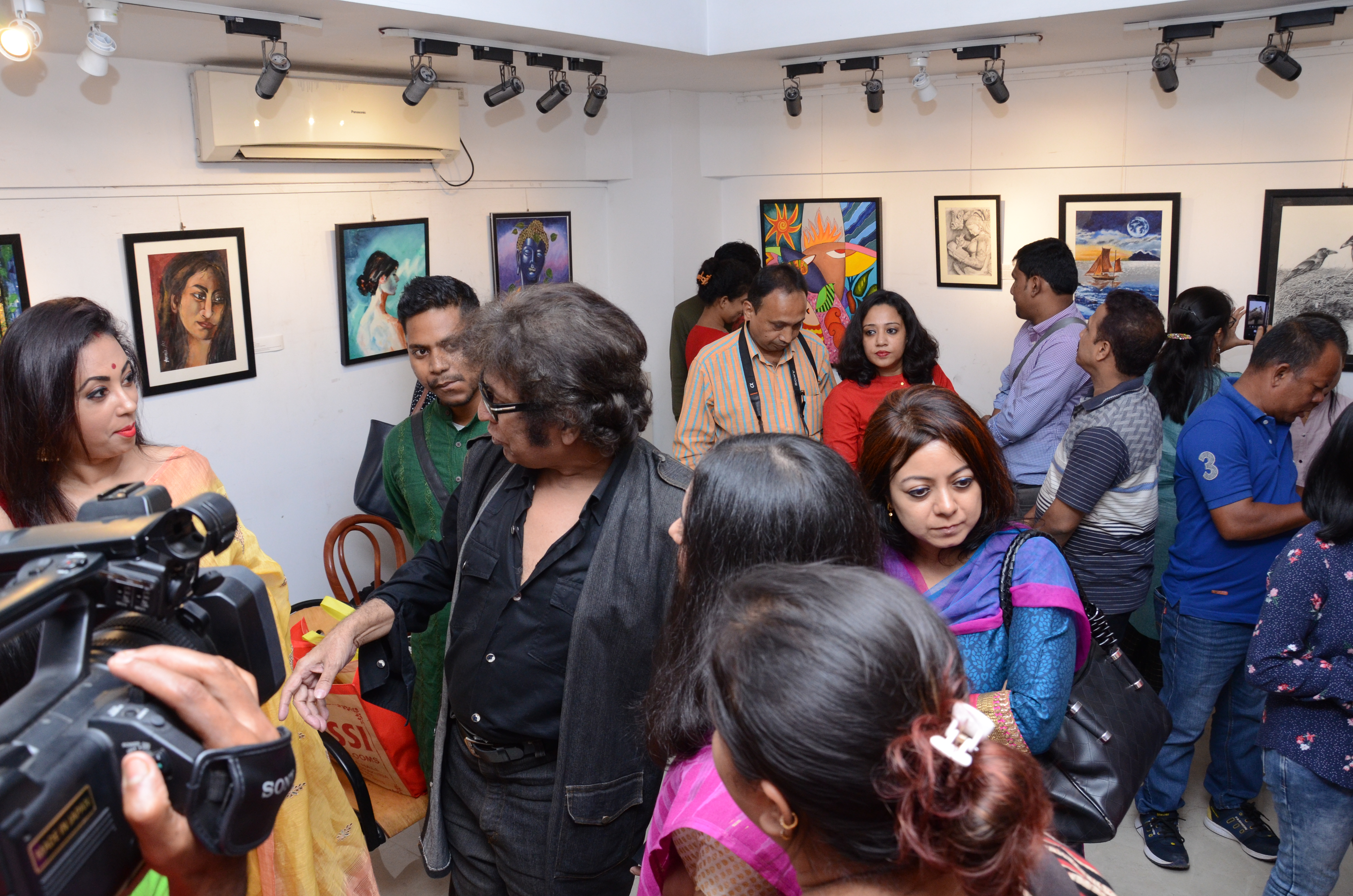 The institution has been working towards creating a complete art ecosystem within Kolkata. Our vision of creating a space where everyone can come and appreciate art was reflected in he discussion held on the inauguration day, on 'how to bring fine arts into the everyday household life of Bengal.' The seminar helped us to not only gather more ideas on how to regularize fine arts in everyday life, but it also gave the present guests to express their opinion on the matter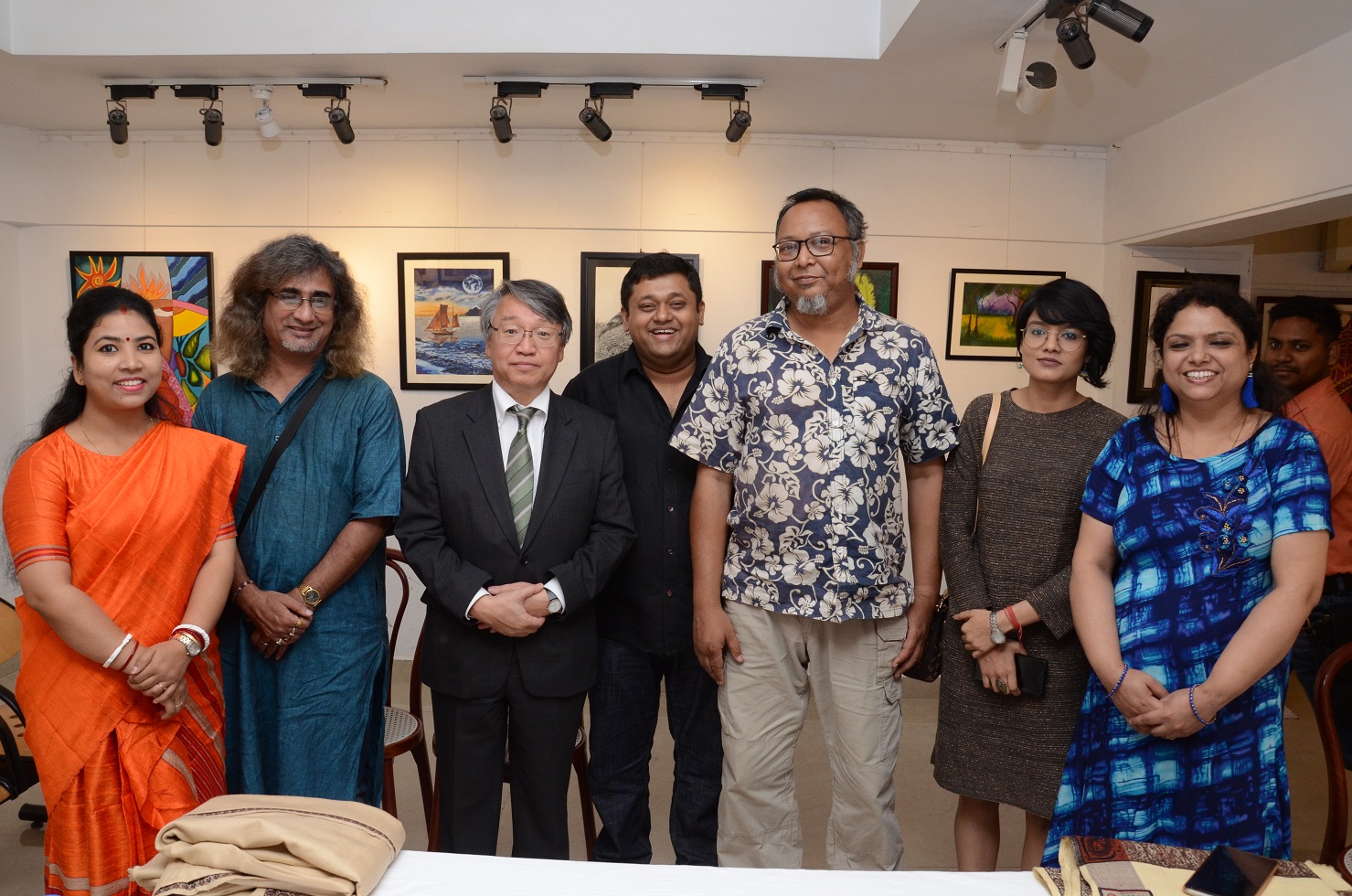 On the very last day, we held a discussion on the topic of "Global Opportunities & Threats of Fine Arts as a Career". Even now the practice of fine arts is seen as just a hobby and not as a proper career. This discussion was to establish the fact that even the practice of fine arts can be a proper career, and what are the global opportunities for this career. Our esteemed guests expressed their opinion on this matter and made the last day of the exhibition all the more memorable.
The Anthelion school of art has been trying and succeeding in regularizing the practice of fine arts in common people of Kolkata. The institution offers training by the finest art professionals and helps people of every age group to re-imagine world in colours and canvas.
Sitting with the artists: a thematic live model workshop (theme- Cleopatra) date 27th july 2018 at Foxtrail.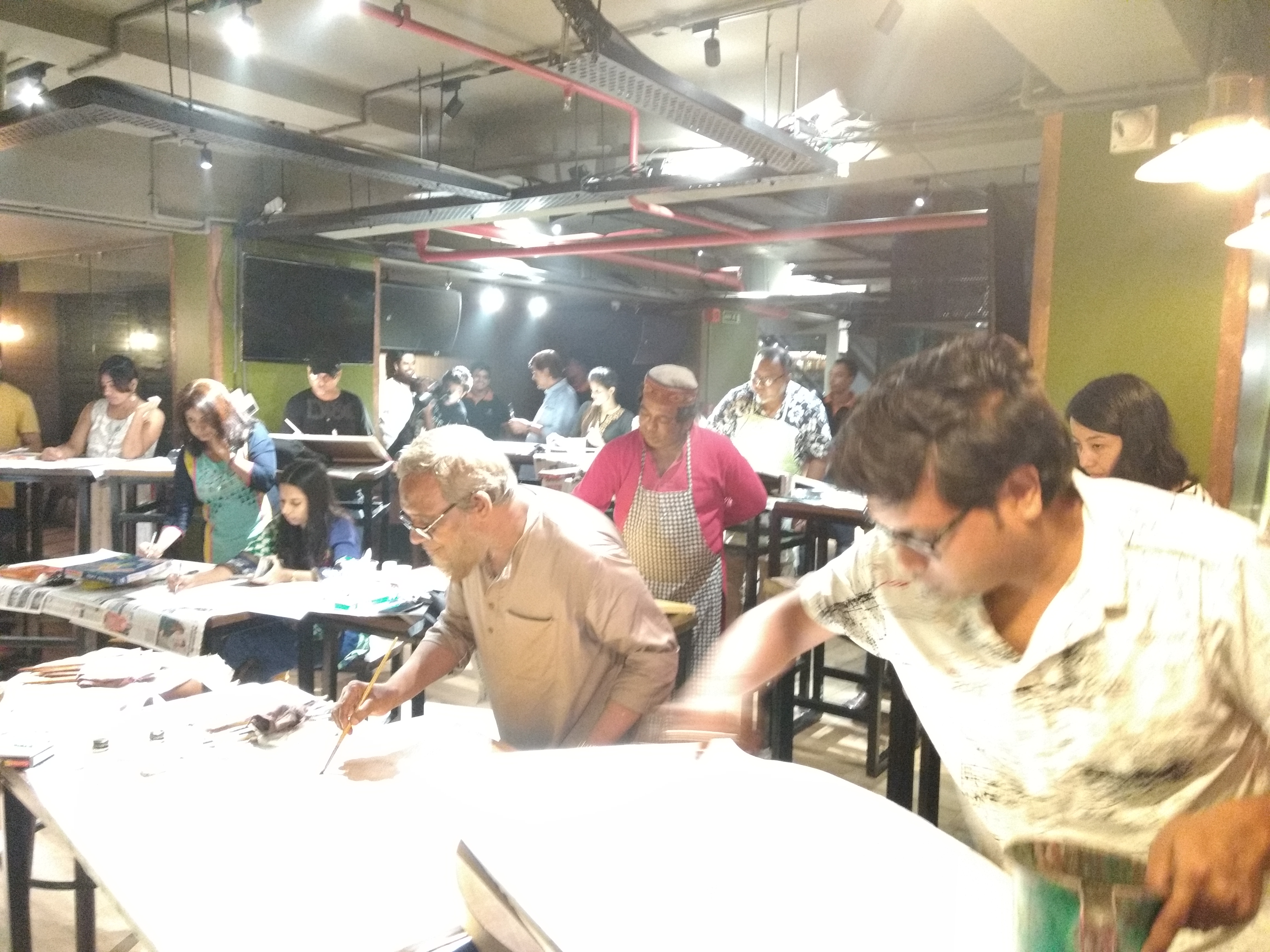 Continuing with their out of the ordinary ideas for the practice of fine arts, Anthelion school of art, as a unique approach to the live model study hosted the thematic live model workshop on 27th July 2018, at Foxtrail. Six senior artist, and 10 participants (2 outsiders, 8 in house students) joined this event, and used their canvas to express their perspective on Cleopatra and delve deeper into the character of this enigmatic queen.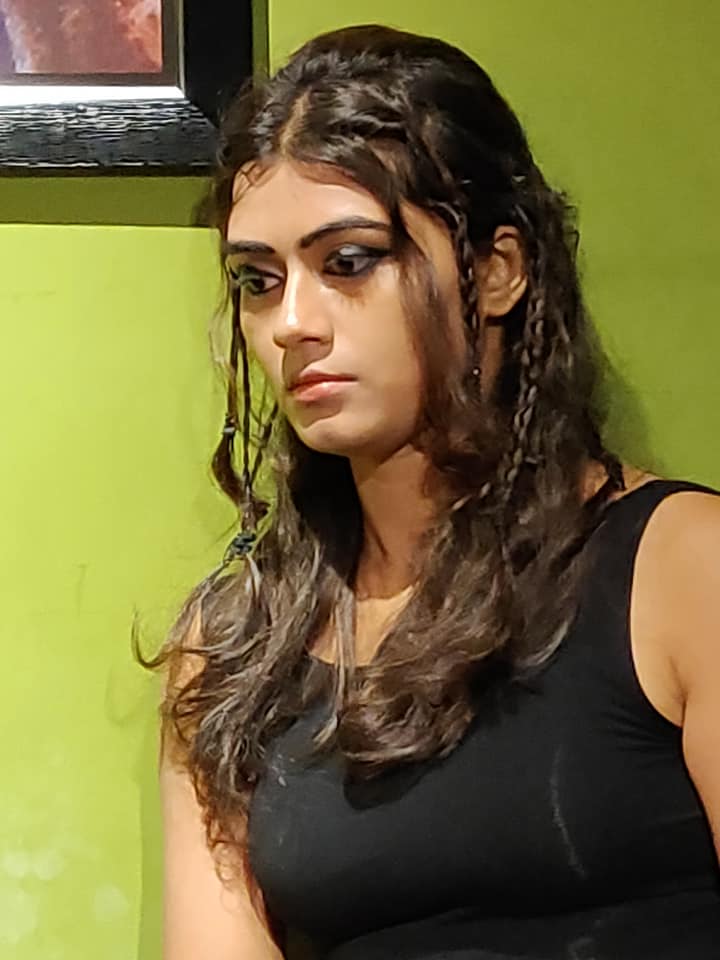 Cleopatra is a name that is widely known and discussed in both history and art. From a historical perspective she was the last Ptolemaic queen of Egypt. She is a controversial woman, because of her life, her rule and her lovers. Which is why, she is an intriguing figure when it comes to art and literature.
While live model workshops are common for fine arts students, the thematic approach is one of a kind. Breaking the normal barriers, Anthelion school of art is giving their fine arts student's new ways to explore and expand their artistic talents. This live model workshop, based on the theme of Cleopatra, made the participants paint with all the colours of mystery, enigma and adoration.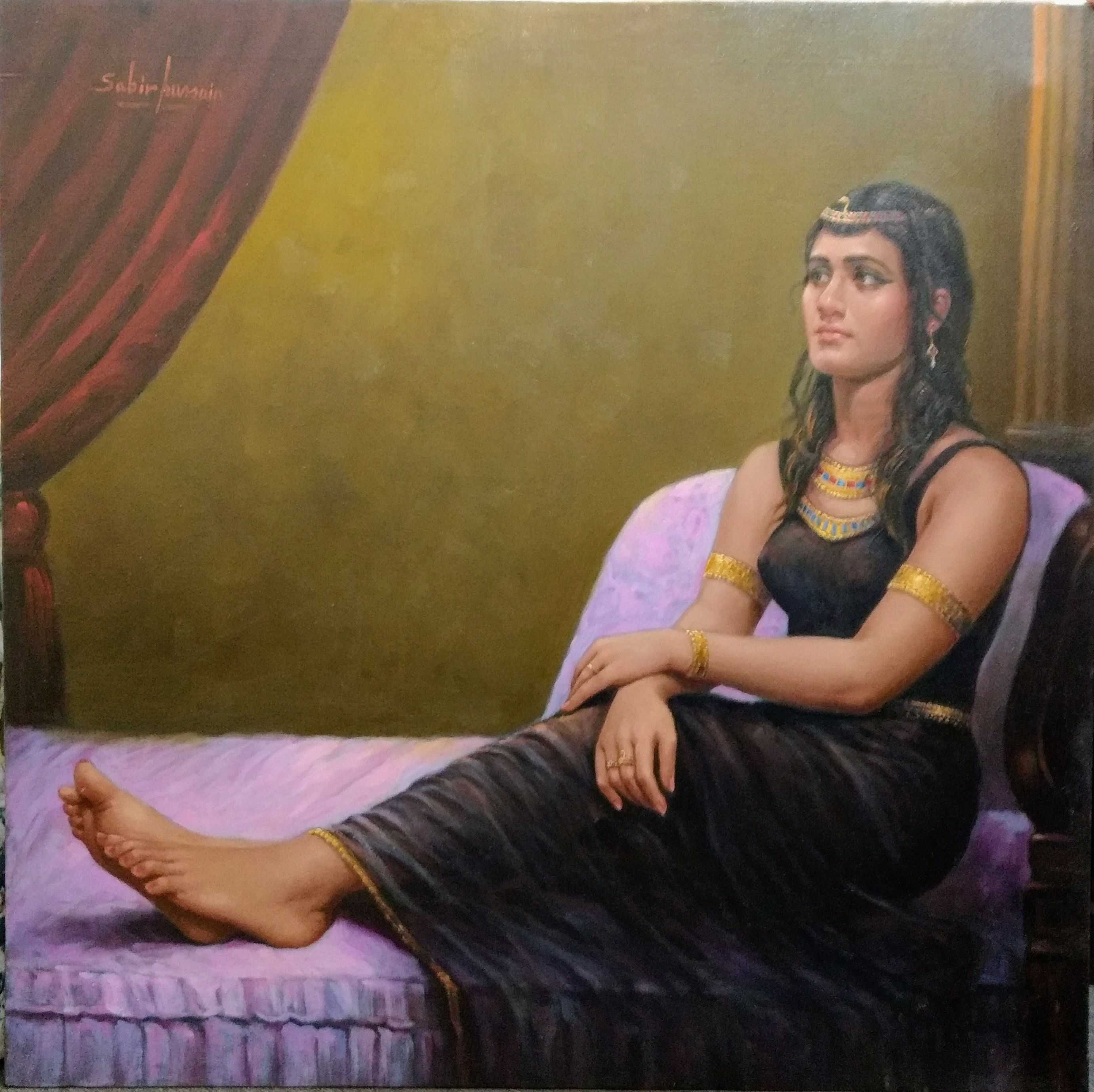 It was one of a kind experience for the students who joined this event; they got the opportunity to explore the theme, in their own way. Not limited by any rules or regulations or a strict classroom. The ambiance of the venue was appropriate for them to draw and paint their imagination freely. The sage guidance of the senior artists was only more encouraging to the students.
Anthelion school of arts is creating new milestones every day, and this even was another. Added to their unique approach towards fine arts, the highly trained mentors, and the easygoing and open ambiance of the institution itself, such events are definitely an extraordinary chance given to their students and the lovers of fine art to explore their artistic view is new ways.
Live Model Painting Workshop on 6th may 2018 at Anthelion school of art.
Our first ever Live model workshop, hosted on 6th May 2018, at our own institution Anthelion School of Art, turned out to be a unique and successful endeavour to give our students different experience than their everyday experience of classes here.
Guided by one of our senior artist and mentor Mr. Anjan Bhattacharya, the participants explored their artistic talents on canvas and papers. Our model, Miss Amita Ghosh, sat for about 5 hours, in slots of 25 minutes each, while the participants painted her using mediums such as pencil, charcoal, watercolour and acrylic paint.
The experience was one of a kind and new to many of the participants, who loved this opportunity. It left them wanting more, many requesting such events to be organised regularly.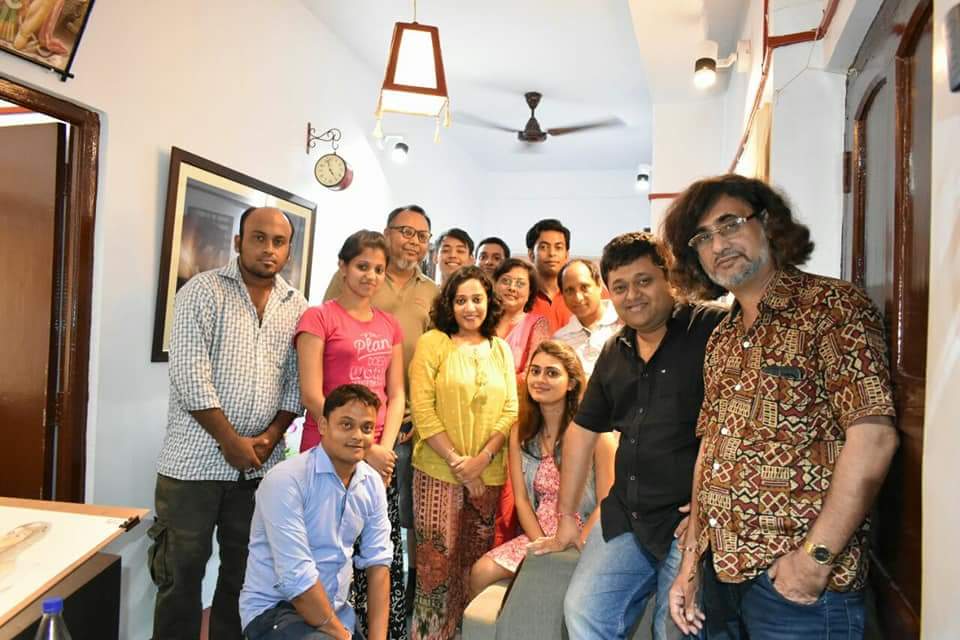 As a testament of their true talents, the participants created beautiful pieces of art, each unique and extraordinary on its own. The success of this workshop was proof of what can be achieved if the students are given enough freedom to practice their own imagination while training for such a delicate subject like fine arts. The Anthelion school of art has been working towards creating such an environment, where students, whether aged eight or eighty, can practice their passion of fine arts and painting in a liberal atmosphere. Along with that, our institution tries to give them experiences such as this workshop, which helps them to enhance their talents.
Anthelion Art outdoor -2 on Sunday march 18, 2018 at Rabindra sarobar, opposite Menoka Cinema hall.
Creativity achieves a new height at out 2nd outdoor event on 18 March 2018 at Rabindra sarobar, opposite Menoka cinema hall. It was an entire day of fun filled art as the participants got to draw and paint to their hearts content in a completely natural setting.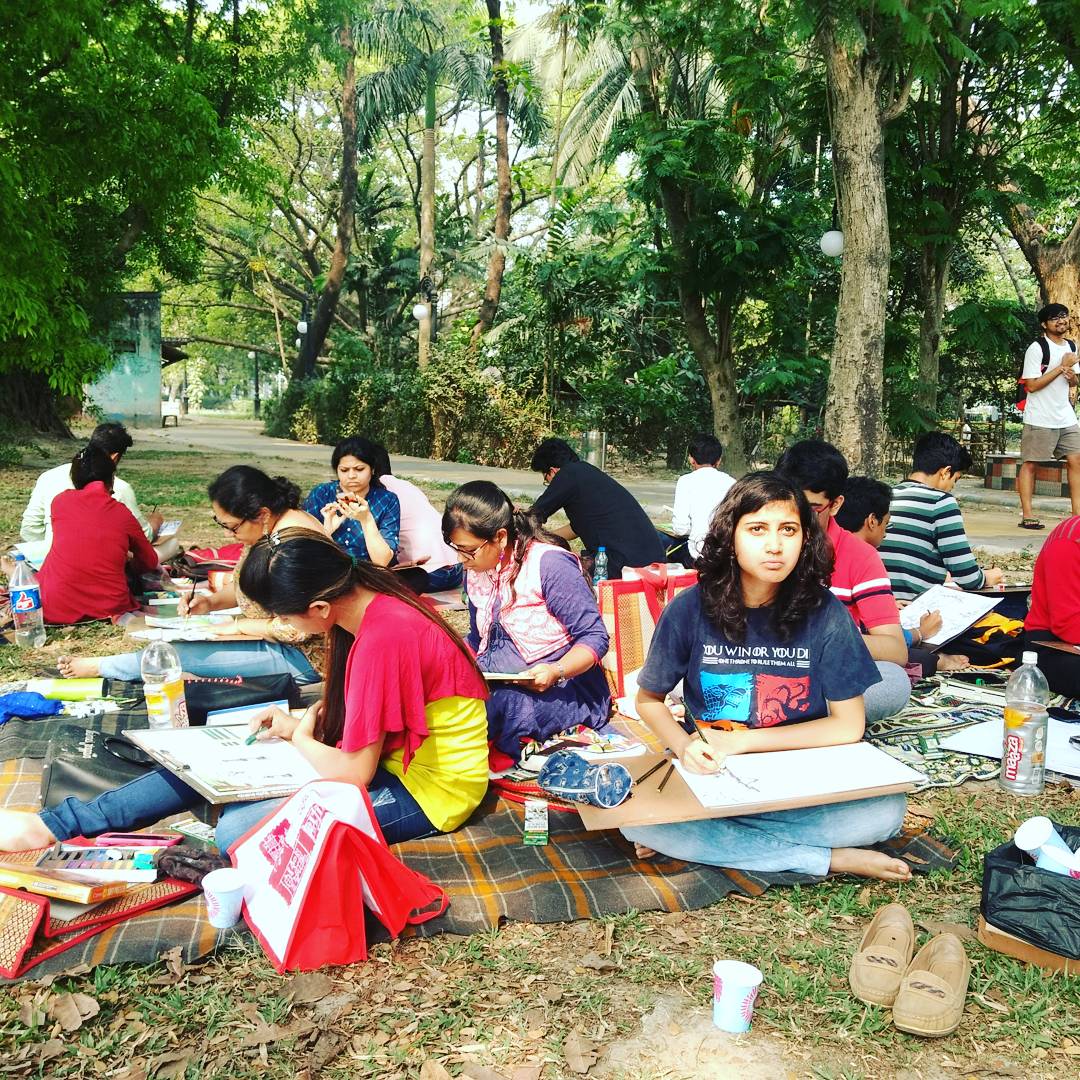 22 participants, 18 in house students and 4 outsiders, joined this amazing outdoor camp, hosted by our institution, Anthelion School of Art, to practice their skills in open nature. The natural and beautiful setting of Rabindra sarobar inspired our participants to create some mesmerizing works of art, that only serve as a proof of the success of this event.
The participants, both in house students and outsiders were provided with ample amount of supplies- sheets and canvas/canvas boards. The preferred materials for this event was- pencil, charcoal, dry pastel, watercolour or acrylic colours.
This event was one of the many that Anthelion School of Art has organized, and will continue to do so. As our institute is trying and succeeding in creating a safe space for any and every one to practice and nurture their artistic skills, the events such as this outdoor camp, is only another addition towards our attempt to bring fine arts into the grasp of everyday common man.
The event made for a wonderful experience for our participants. This was a fun exercise, giving them a chance to take a breather from their routine life and classroom atmosphere, and return to the nature, to observe and practice the natural setting. This was a unique experience, and we will keep organizing such events to give our students such experiences.
Art scholarship test at anthelion school of art on 21st January 2018
Many artists lose their dreams and passions of pursuing fine arts due to lack of resources to obtain proper training. For them, on 21st January of 2018, we, at Anthelion school of art held a scholarship test. This test was held so that a few needy and deserving art aspirants can get the guidance they deserve without having to worry about money.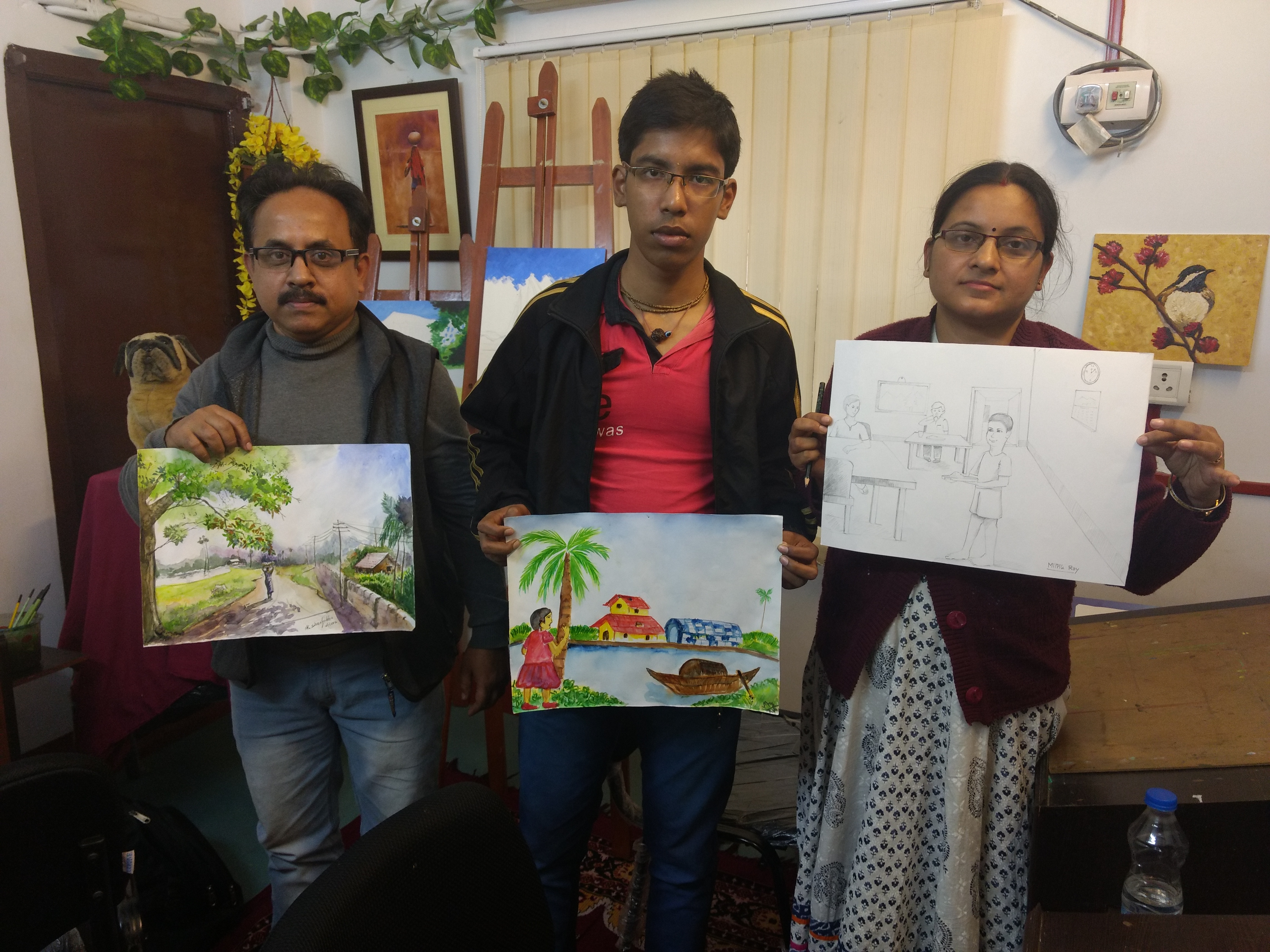 The test was held for those who truly love art and want to pursue it devotedly and could get a chance to do so at our institution. The test was held by us and after being evaluated by trained and professional artist, out of the three participants who were given an amazing opportunity, one was selected for the scholarship, and was given the mantle of Anthelion scholar.
The selected student not only got one year of free tuitions in fine arts at our institution but was also provided with the support and platform to promote themselves and their art for the next two years. This was a unique and once in a life time opportunity for those who aspire to become great artist but cannot due to financial problems.
The Anthelion school of arts is working towards creating a safe space for people to practice art. Disregarding age, we are keen on building a welcoming place for all to express themselves through paint and canvas, and also provide art therapy for those who need it.
Art Outdoor one: 14th January 2018-12-25
The students of Anthelion School of Art got a unique treat as the school held its very first Outdoor session. The participants had the chance to draw and paint in lap of the nature, right in front of Ravindrasarobar Lake.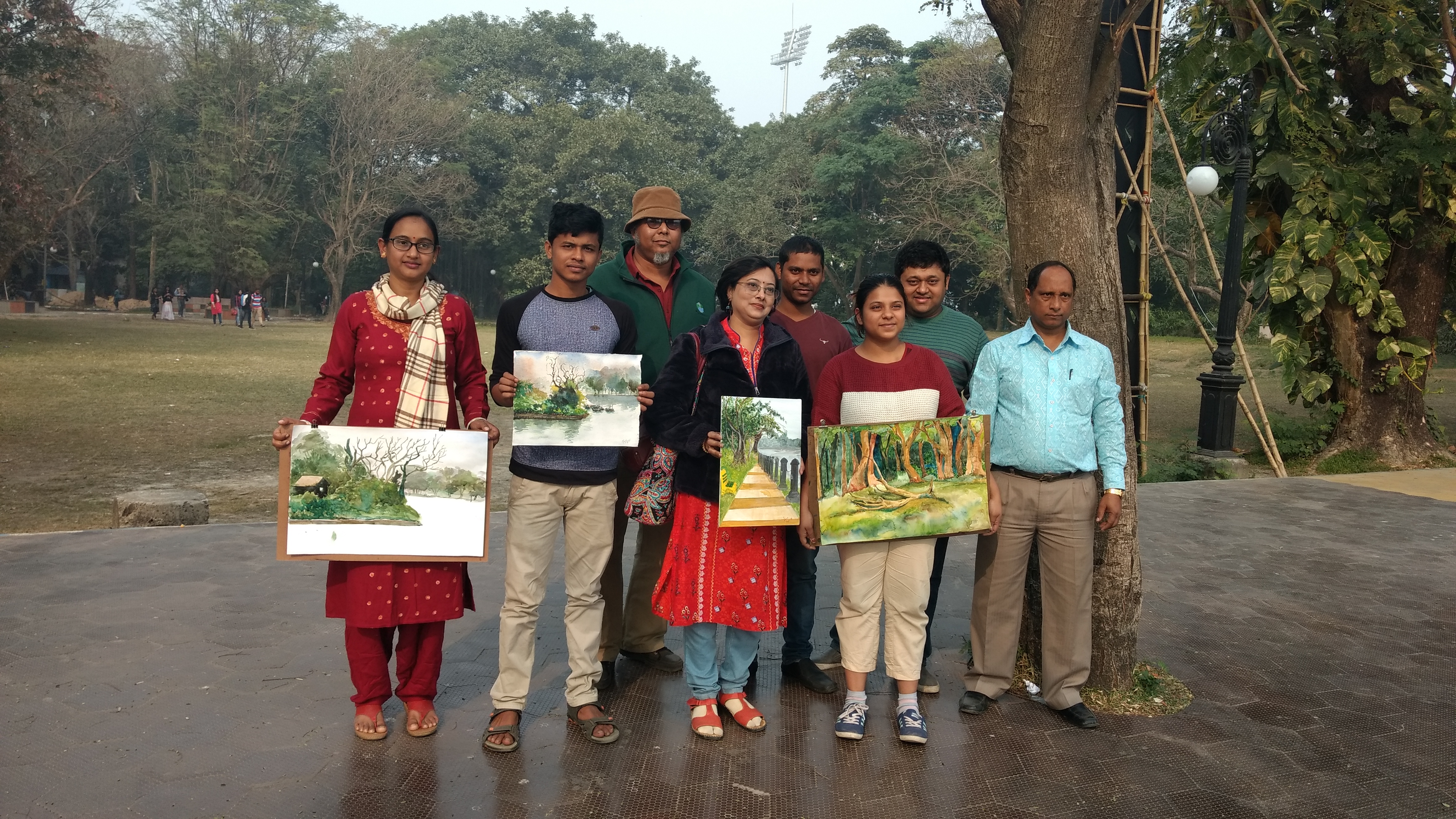 Under the guidance of two mentors, they explored the nature and expressed their feelings on canvas
and paper.
Events such as this are imperative for the growth and nurture of the artistic persona of the students and that is what our institute has set out to do. By organizing such events we are trying and succeeding to educate and nurture the artist in our students, regardless of age.
Art Workshop at Anthelion School of Art: conducted by Mr. Wasim Kapoor on 3rd September 2017
A good educational institution gives its students the chances of life time to enhance their talents. Keeping up with this, Anthelion school of art organised Art workshop on 3rd September 2017, conducted by Mr. Wasim Kapoor.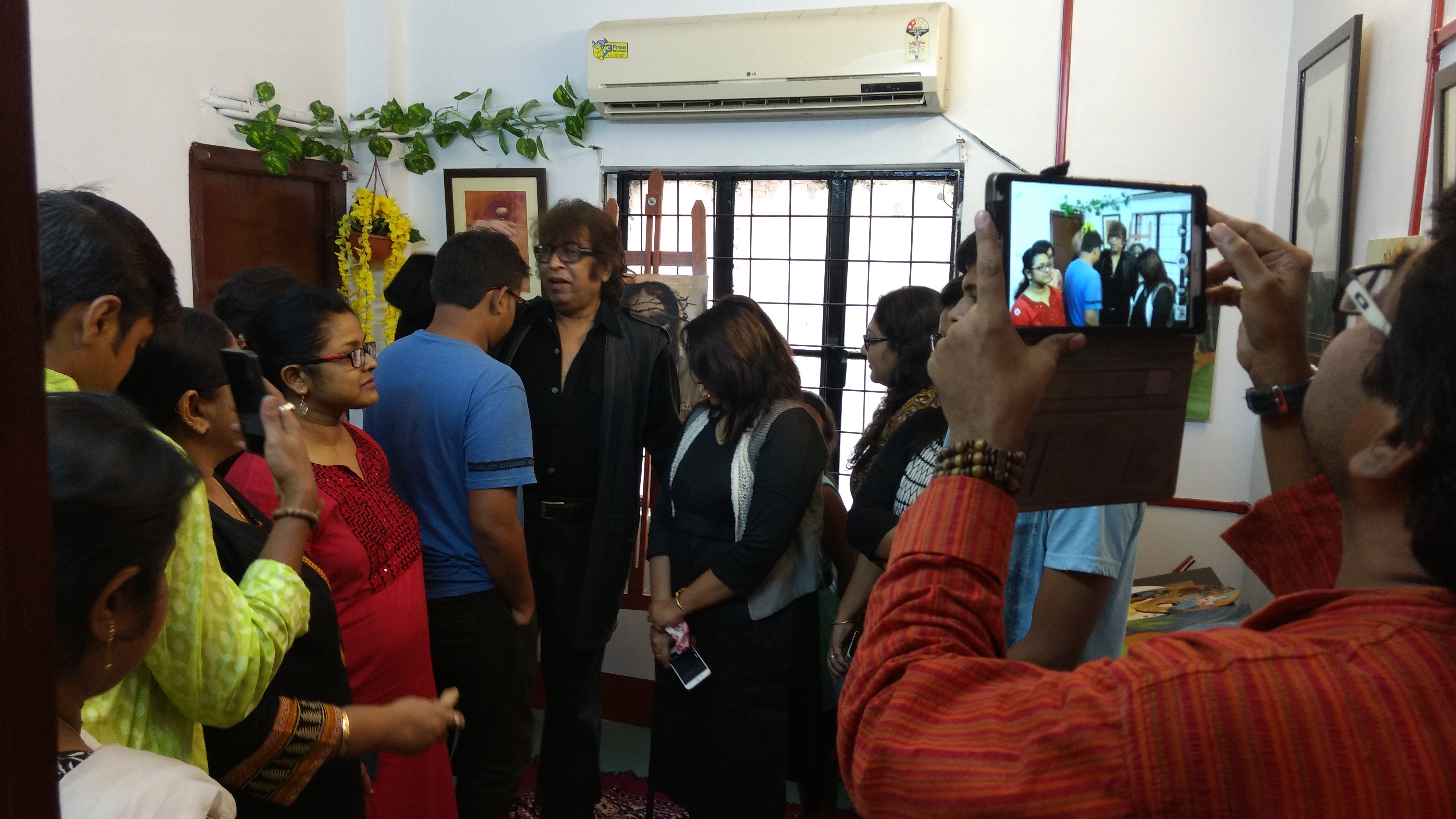 This exquisite chance was for 6 in house students and six outsiders. Based on the theme "express the freedom of limitless mind", the maestro himself demonstrated the art of expressing one's own emotions and thoughts with acrylic on canvas. The event was an incredible success, the participants learning the ropes from the great artist himself.
Anthelion school of art has been conducting their own mission to provide a safe space for everyone to come and practice their passion for art. At the heart of the city, this is an institution that is helping many explore their artistic talents even in the middle of their busy life style. This event was just another successful attempt to full fill their mission of bringing art into the everyday normal life of ordinary people.
Summer art camp held by Anthelion School of Art on May 25th 2017
The long summer vacation is something every child waits for the entire school year. The best way to utilize this long stretch of holiday is to use it to learn something. Which is why, Anthelion School of art hosted summer art camp, a unique endeavour aimed to nurture the artistic talents during the vacations.
The participants underwent eight classes, completing art works using pencil sketch, pastel and watercolours. It was an amazing experience for the kids, learning to play and work with colours and express themselves on paper under the careful guidance of our mentors.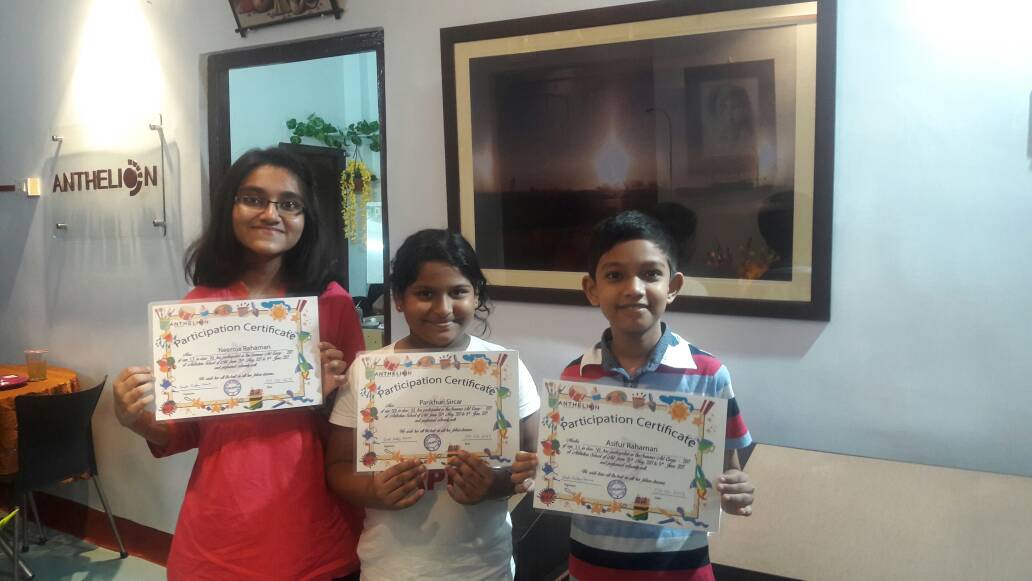 The doors of our institution are open to people from ages eight to eighty, to nurture their artistic soul and providing art therapy. This event was for the little ones out there, who need better understanding of their thoughts and wishes, and what better way to understand it than through art; with that in mind we will continue organizing such events that not only help people in flourishing their artistic persona but also takes care of their mind and thoughts.